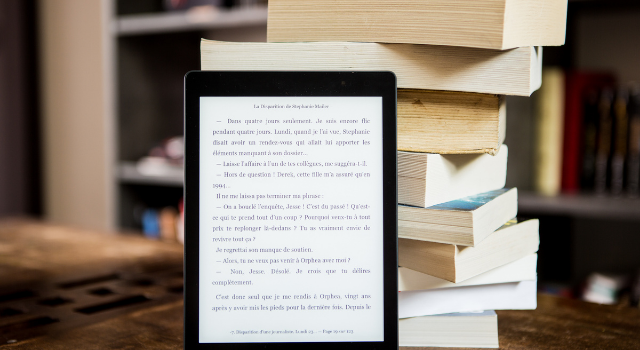 Author | Josephine Ngatia
Ebooks are a great way for authors to reach a global market and share their expertise or message with the world. Kenyan authors are now publishing eBooks besides the print version of their books. However, some authors are missing out on the eBook market because they only have a print book. There is hope for these authors because it is possible to convert a print book file to an eBook.
In this article, I'll show you how to convert your print book file to an eBook in 5 easy steps. I will talk about what you can do if you only have the PDF file for both the interior and cover of your book. The focus of this article is on reflowable eBooks, and not fixed layout ones.
A reflowable eBook works best with text only books and is accessible through most e-reading devices. A fixed layout is for eBooks that are highly illustrated and have a lot of images, charts, or tables, and you want them to remain in their original positions.
Below are 5 Easy Steps to Convert Your Print Book File to an EBook
An eBook file needs to be in epub format for you to sell it in online stores worldwide. If you would like to sell it on Amazon Kindle, the file will be in kpf format. Amazon no longer supports the mobi format for eBooks. You will have to convert your print book file to these formats formats, which support the reflowable eBook. The steps below will help you create an eBook file you can upload to online stores such as Kindle, Kobo, Apple Books, Barnes & Noble, among others.
1. Convert Your Print Book File to MS Word
Before you can convert your PDF book file to an eBook, convert it to MS Word first. You can use an online PDF converter to change your file from PDF to MS Word. Once you convert your file, you can format it to the required standards of online publishers like Kindle Direct Publishing, Draft2Digital, Ingram Spark, Smashwords, etc.
2. Format Your MS Word File
Once you convert your PDF file to MS Word, you will format it by changing the settings of the headings, paragraphs, images, and charts according to the requirements of online publishers. Do not include a table of contents as online publishers will insert it as they convert the file to epub or kpf. Kindle Direct Publishing (KDP) and the other sites have guides you can use to format the MS Word file. Be sure to read their guidelines to avoid rejection of your eBook. You can read this blog post on preparing your manuscript for eBook conversion.
3. Convert the Print Book Cover from PDF to JPG or PNG
The eBook cover format is in jpg or png formats. It is the front side of your print book cover, excluding the back and spine. Since your print book cover is in PDF, convert it to the acceptable formats. Use an online PDF tool to extract the front side and convert it to jpg or png. Each eBook store will show their preferred dimensions of the eBook cover. If you are using an eBook distributor such as Draft2Digital, they will specify the dimensions of the cover, which will work for most eBook stores.
4. Convert the MS Word File and Cover to an Epub or Kpf File
Once you have formatted the MS Word file and cover, it is time to convert them to an epub file format. The epub is the most common and widely accepted. The good news is that once you format your MS Word file, you can upload it to online stores and distributors and they will convert it to epub or kpf. If you want to publish your book on Kindle, you can upload your MS Word file to Kindle Create and create your eBook file, then generate the kpf file you will upload to Kindle Direct Publishing.
5. Preview the eBook File Before Selling It
Once you upload your formatted MS Word file and it goes through the conversion process, preview it using the previewers that online stores provide. You can also download the epub file generated and preview it using independent software before approving your eBook for sale. Use the Kindle Previewer or Calibre to view your epub file and ensure that the file has converted well, and includes a clickable table of contents. Once you are happy with the file, you can approve your eBook for sale.
If you use an independent software to create an epub file, use an epub validator to confirm if your file is ready for publishing. Validators are available online. If you are publishing on Draft2Digital, you can use the validator on their site. If you get an error message, reformat your file.
Conclusion
As we have seen in the article above, you can convert your print book file to an eBook and sell it within a short time. The formatting process is the one that takes long, as conversion only takes about a minute. If you are unsure about how to create an eBook file from your print one, get a professional to help you.
WordPower Publishing Kenya can help you convert your print book file to an eBook. Please get in touch with us for more information or a quote for eBook formatting on hello@wordpowerpublishing.co.ke
Please read the free guide titled EBOOK DISTRIBUTION to see the requirements for opening an account with online publishers and uploading your eBook.
Convert Your Print Book File to an eBook in 5 Easy Steps